Description
From Manufacturer
Take control of your personal finances with Quicken 2021 Home & Business Edition from Intuit for Windows. This software download code provides new users with a one-year subscription to Quicken 2021 and all the Home & Business Edition features, which may be renewed annually. With the Home & Business Edition, you have the tools you need to manage both your personal and business finances by tracking your bills and spending to create a budget, issuing invoices, managing lease terms, and more. You can also track loan, investment, and retirement accounts all in one place with comprehensive tools such as Morningstar's Portfolio X-ray to help guide your investment decisions. New features include managing and monitoring your bank and credit balances, accounts, budgets, and transactions from almost anywhere using computers, mobile devices, and web browsers. Track and pay your bills from Quicken, whether they are sent to you via email or snail mail, then conveniently export your data directly to Excel through a variety of custom report layout options.
Accomplish more, faster, with Quicken 2021 Home & Business Edition.
Complete your accounting tasks quicker than ever before with enhanced speed and productivity.
Organize your business finances all in one place
Simple setup and easy to use, no accounting knowledge necessary
Customizable invoices, sales receipts, estimates, statements, and purchase
Easy access to the latest version, with the latest features and security patches
Automated data backup and recovery
Unlimited customer support
Collaborate with 1 to 3 concurrent users (each sold separately)
New features in QuickBooks Desktop Plus 2022
NEW – Enhanced computing power (64-bit)
Enhanced computing power for up to 38% faster performance.
NEW! Pay vendor bills online
Schedule and pay bills faster within QuickBooks, using the funding source you want, and in the digital or physical form your vendors want.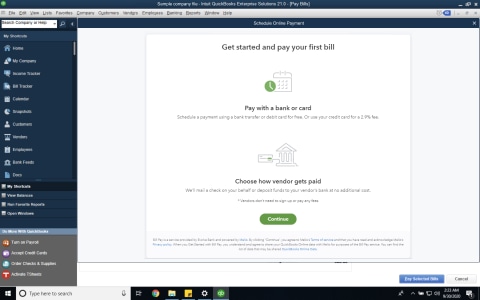 NEW! Automated bill entries
Save time by having QuickBooks automate bill entries from the QuickBooks Desktop Mobile App or an email address. Just import, and review.
NEW! Attach documents to transactions
Attach documents to transactions faster by directly uploading them via the QuickBooks Desktop mobile app.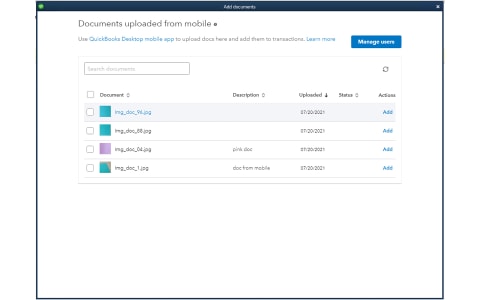 NEW! – Email customizable bill payment stubs
Maintain professional and consistent communications by emailing customizable bill payment stubs to your vendors.
NEW! – Send emails more quickly
Send emails more quickly by choosing the right recipients from a list of your customer or vendor contacts.